Travel Insurance
Travel with peace of mind. Travel insurance products allow you to travel the world in complete freedom, knowing you have the most comprehensive coverage. Be it for a short trip or extended family holiday, single-journey or annual coverage; allowing for multiple trips, you can choose from our wide range of travel related products and services.
Features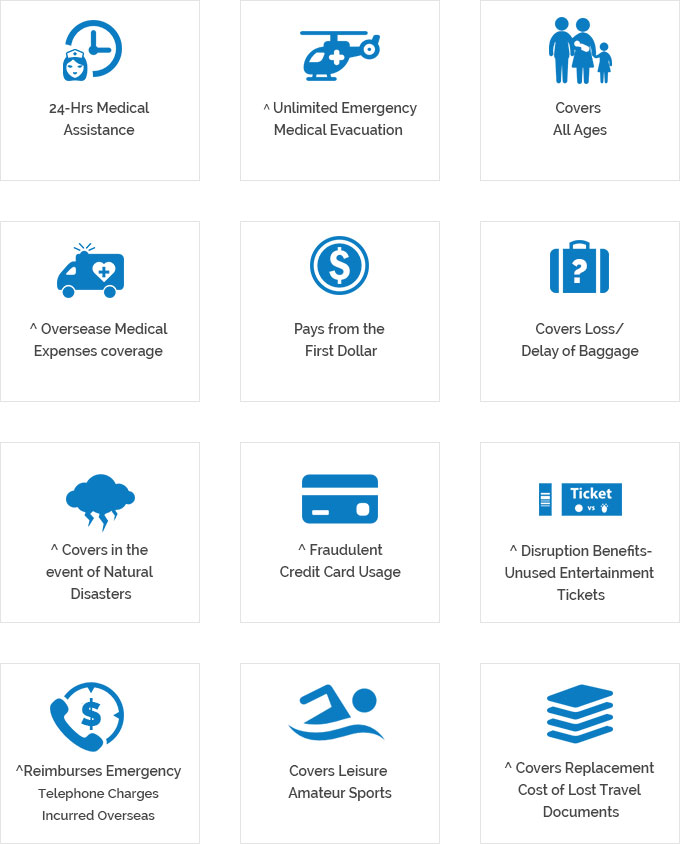 Before You Apply
Trip Departure Must
Be from Singapore
All trips must begin from and end in Singapore.
INCEPT POLICY
BEFORE YOUR TRIP
Policy must be effected before departure from Singapore.
182 days for Single Trip and 92 days per trip for Annual Plan.
There is no age restriction for cover. However, you need to be at least 18 years old to buy an individual adult cover.
PERSONS ELIGIBLE
FOR COVER
Singapore citizens, Singapore PRs, or holders of a valid employment or student pass, long-term social visit or dependent pass.
Each child must travel with at least one insured parent.
Applicable for you and your family.
An unmarried and dependent person below age of 18, or up to 25 if still studying full-time during the policy period.
If you have more than one travel policy with AXA, only the policy with the highest benefit will apply.

Overseas Study Protection Plan
Studying abroad in a foreign land can be both an exhilarating and daunting experience, especially so when you are all alone and facing unforeseen circumstances. With our Overseas Study Protection Plan1 that provides comprehensive 2-in-1 worldwide2 protection against personal accidents and travel inconveniences, you can embark on your exciting learning journey with peace of mind knowing that we have got you covered.
Important Notes : This information is for reference only and is not a contract of insurance. Full details of the policy terms and conditions can be found in the policy contract.
To know more, please Contact Us